Reimagining The Youth-led Recovery Of Global Tourism
Young people are a force to be reckoned with. They're no longer just consumers; they're creators and innovators who are fostering change across all industries. But what happens when a global pandemic breaks out? How does this impact their lives? And what does it mean for the future of tourism? How Generation Z and beyond react to this disruption will dictate the landscape of the world in the coming years. Our researchers set out to find out more in our latest report for The World Tourism Organization is the United Nations (UNWTO), A Youth-led Recovery of Global Tourism – Priorities and Recommendations, elaborating further on the findings of our previous report in the series, The Impact of COVID-19 on Global Youth: Focus on Asia and Italy.
The Importance of Tourism for Young People
The travel and tourism industry has long been a cornerstone of the global economy. With tourism being closely linked to health, culture, and education, any changes in global tourism will also impact these areas. Ultimately, we sought out a new perspective in this discourse – seeking to explain not what the young generation can do for tourism, but rather, what tourism can do for them. 

Within the scope of the report, we conducted an exploratory global online survey of young people aged 10 to 26 along with a focus group with participants representing 17 countries that were hosted by UNWTO and facilitated by TOPOSOPHY consultants. This primary research covered a range of topics such as the impact of COVID-19 on respondents' daily life, their perceptions of sustainability and tourism, and their future travel ambitions. 

The findings of the survey demonstrate that young people not only regard tourism as a vehicle for increasing their educational abilities, work experience, and confidence but that it also represents an important conduit for cultural interaction and boosting soft skills. While they are still in the early stages of their "travel careers," the young people interviewed and surveyed for this report clearly see the significance of tourism.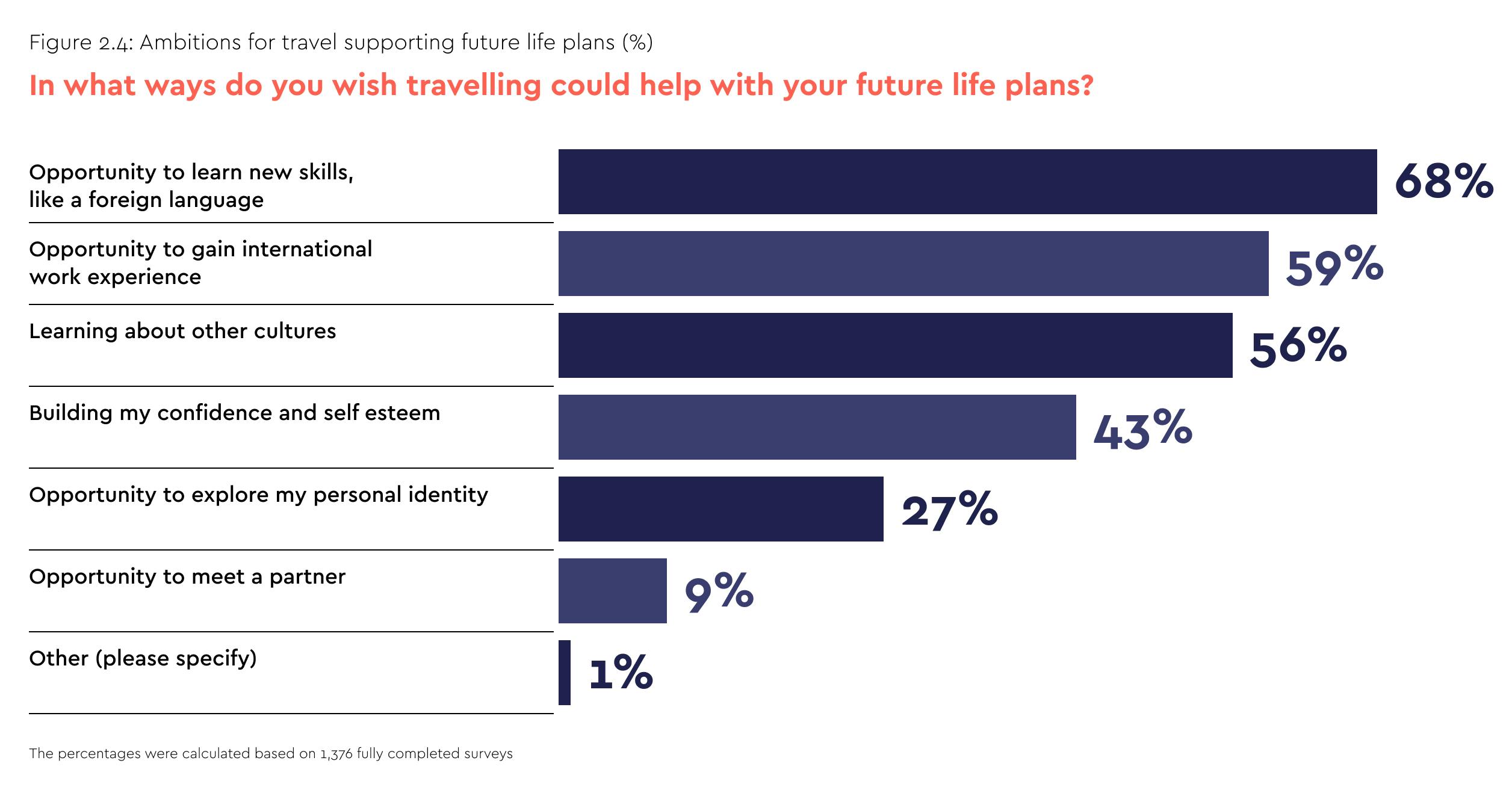 Simultaneously, the evidence provided in this study verifies what has already been well documented: that accelerating global warming and the disappearance of biodiversity entail that the post-pandemic recovery of global tourism should not be compromised.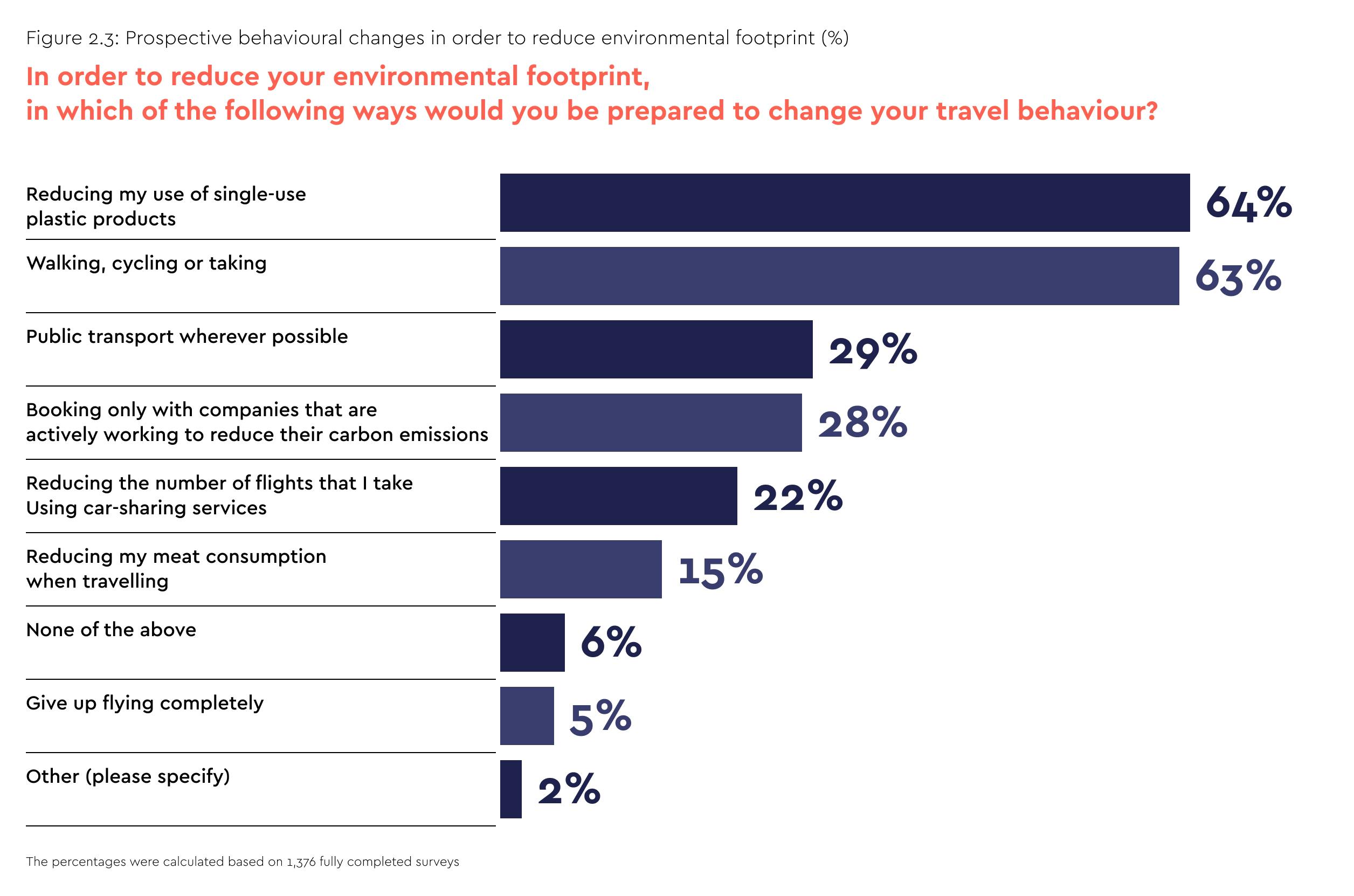 Embracing Innovation, Sustainability, and Cultural Exchange
The world's youth are facilitators of change on topics that matter: from vouching for better mental health awareness to reducing the impact of climate change (see fig. 1.3). However, their aspirations to do so are often limited by their education, employment, and involvement opportunities.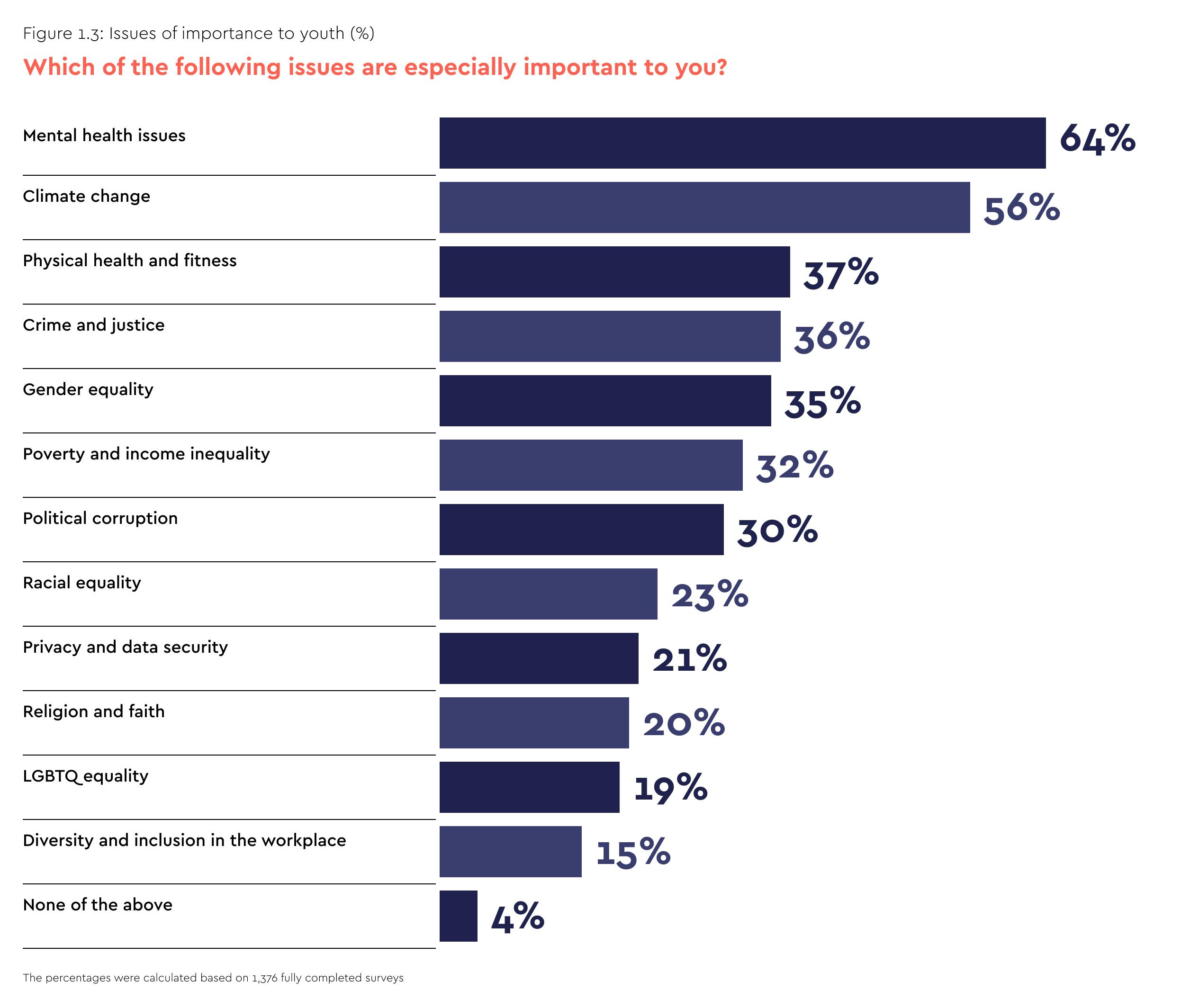 In order to address these challenges, we must focus on young people as key stakeholders in this process. This is why we see a growing and apparent need for a youth-led recovery of global tourism. We need a model that embraces innovation, ensures sustainability and responsibility, and promotes cultural exchange.

Our findings suggest that there are three key areas where youth can play an important role in helping these countries recover: by advocating for increased investment in education and training programs; by providing skills training that focuses on entrepreneurship and leadership; and by encouraging young people to take part in ongoing dialogue with local communities about how best to rebuild after these disasters strike again next time around (or sooner). At the same time, the research aimed to create a platform to share knowledge among institutions, facilitating meaningful engagement with young people. 
TOPOSOPHY: Pioneers of Youth-Focused Tourism Reports and Studies
TOPOSOPHY has shown continuous involvement in youth research initiatives and created a strong portfolio of projects stretching back over many years which have explored the values and attitudes of Millennials, and later Generation Z.  In 2015 we produced our own paper Putting Your Place on the Millennial Map, and the following year our report 'Stepping Out of the Crowd' for the Pacific Asia Travel Association in 2016 was one of the first to explore the travel attitudes of Millennial travellers in Asia, and proposed solutions to the emerging challenge of overtourism. 

And in 2020, we produced a comprehensive Study on Generation Z Travellers for the European Travel Commission and have also produced blog posts and webinars exploring the differences between these generations.

About this research: 
An online survey of young people aged 10 to 26 was carried out for a period of approximately seven weeks, distributed by UNWTO between 30 March and 19 May 2022. A total of 2,106 responses were received. The nature of the survey was exploratory; no fixed quotas were set for gender balance nor geographic scope; however, the individual results show a broad spread of respondents from nearly all world regions enabling a range of young peoples' perspectives to be reflected in the findings.
Want to know more?
Download the
Report A Youth-led Recovery of Global Tourism – Priorities and Recommendations
Glad you asked! Please enter your email to receive your document.
Next on Insights
#placemaking
TOPOSOPHY Team
Our 20 Milestones for 2022
DICOVER MORE